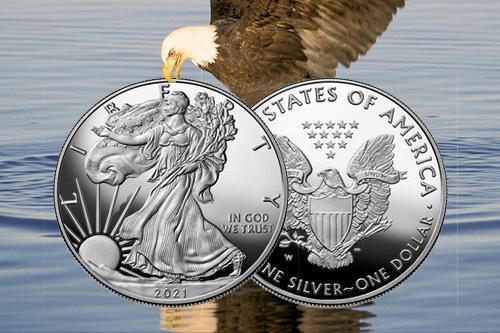 Silver American Eagle Proof Launch
UPDATE: The Silver American Eagle Proof has sold out from the U.S. Mint in under 10 mintues. Sign up here to be notified when the Proof 70 version is available.
Today, the Silver American Eagle Proof is one of the most world-renowned and widely revered coins offered by the modern United States Mint. Authorized by Congress in 1985 under the "Liberty Coin Act," the Silver American Eagle Proof was released for the first time in November 1986 as one of the inaugural coins of the new American Eagle coin program.
Over the course of its now three-and-a-half-decade tenure, the Silver American Eagle Proof has been struck at three U.S. Mint locations – the San Francisco Mint, from 1986 through 1992, the Philadelphia Mint from 1993 through 2000, the West Point Mint from 2001 through 2008, and again starting in 2010. No Proof Silver Eagles were struck in 2009. All three mint locations have produced Silver American Eagle Proofs since 2016, with the New York-based West Point Mint boasting the majority of the coin's production.
The United States Mint will release multiple iterations of its Silver American Eagle Proof coin in 2021, the first of which is set to launch Thursday, February 11, 2021, at noon Eastern Time. This first 2021 issue will not be subject to a mintage limit but will have a product limit of 327,440 and an order limit of 99 coins per household.
Marking a significant chapter in the coin's storied history, this early-year issue of the 2021 Silver American Eagle Proof will be the last time the coin's familiar reverse design will be struck. For each year of the Silver American Eagle Proof's now 35-year tenure, the heraldic eagle design by Mint Sculptor and Engraver John Mercanti has been struck on the coin's "tails" side, mirrored by a replica of Adolph A. Weinman's "Walking Liberty" design and on its "heads" side. For the first time in the coin's lineage, the coin's reverse design will be replaced by a new image, set to be introduced on an additional issue of the Silver American Eagle Proof later this year.
Proof coins purchased directly from the U.S. Mint are not graded. Obtaining a grade - or rating, of sorts - for a proof coin is an extra step that investors may take to solidify their coin's quality and status. Receiving a grade from a reputable, third-party grading institution, such as the Numismatic Guaranty Corporation (NGC), officially confirms a coin's condition. Grades are based on various metrics, such as the extent to which the piece shows blemishes like smudges, fingerprints, or surface knicks, the degree to which the piece's inscriptions are legible and images are defined, and if discoloration or other imperfections are present, among others.
Wholesale Coins Direct handles the coin grading process on behalf of clients, ahead of making them available for investment. We are proud to provide a proof coin inventory made up almost exclusively of PF70 graded pieces – the highest grade granted by NGC.
Additionally, each Proof 70 coin offered through Wholesale Coins Direct is accompanied by a certification label hand-signed by former Director of the U.S. Mint, Edmund C. Moy. This attractive value-add is offered exclusively to Wholesale Coins Direct clients and has proven to be an appealing and often lucrative addition – thanks, in part, to the labels' small population sizes – to the already esteemed class of Proof 70 coins.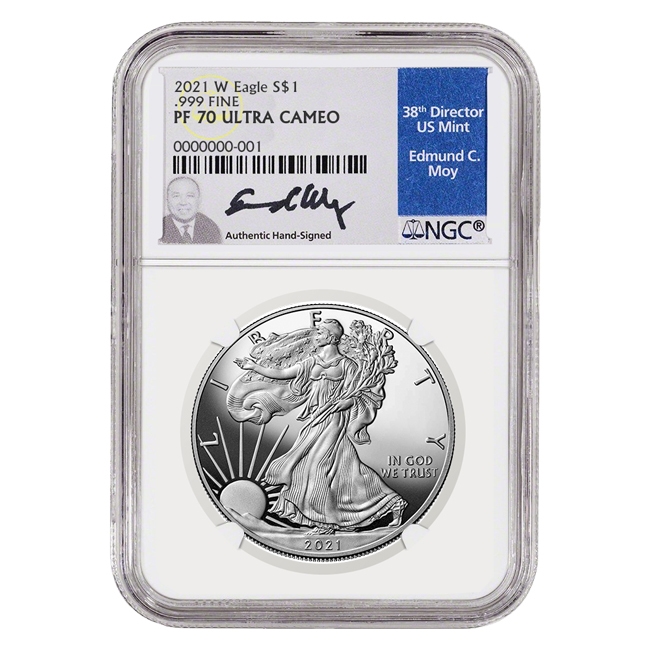 Silver American Eagle Designs
The Silver American Eagle Proof has come to be known not only for its striking appearance and significant popularity but for the obverse-reverse design combination it has boasted for the entirety of its now 35-year tenure. Later in 2021, the piece's reverse is set to be replaced by a new image, although the coin will continue to be struck with a replica of Adolph A. Weinman's "Walking Liberty" design on its obverse.
For all 35 years of its run to date, the Silver American Eagle Proof coin has carried the image of a heraldic eagle and shield, designed by former Chief Engraver of the U.S. Mint, John M. Mercanti, on its reverse. Mercanti's eagle is depicted from a head-on perspective, with the bird looking to its right, wings outstretched to either side and clasping in its beak a flowing ribbon with the United States' motto, "E PLURIBUS UNUM," stitched onto its surfaces. The eagle clenches an olive branch – a symbol of peace and victory – and a bundle of arrows – perhaps symbolizing strength and unity – in its right and left talons, respectively.
The words "UNITED STATES OF AMERICA" are inscribed across the top edge of the coin's reverse side, mirrored by the piece's specifications – "1OZ.," "FINE SILVER," and "ONE DOLLAR" – along the bottom. Thirteen five-point stars are struck above the eagle's head, representing the thirteen original colonies of America. The "W" mint mark, indicating the coin's production at the West Point Mint, is shown to the bottom left of the eagle.
The heraldic eagle reverse design was created by the U.S. Mint's 12th Chief Engraver, John M. Mercanti. A Philadelphia native, Mercanti studied at a variety of arts institutions in his home state of Pennsylvania. He also served in the Pennsylvania Army National Guard for six years, before joining the artistic team at the U.S. Mint in 1974 as a sculptor-engraver. Mercanti was appointed as the institution's 12th Chief Engraver in May of 2006, a role in which he served until his retirement in 2010.
Over the course of his tenure at the Mint, Mercanti created more U.S. coin and medal designs than any other Mint staffer to date – as of 2006, he had designed 100 pieces of art for various U.S. pieces, including many anniversary and commemorative coins, several Congressional gold medals, and a number of state-specific 25-cent pieces in the Mint's 50 State Quarters Program. Of course, he also created the reverse image that has been struck on the Silver American Eagle bullion and proof coins since 1986.
The Silver American Eagle Proof will continue to carry its inaugural obverse design in 2021, save for some "refreshments," according to the U.S. Mint. The coin's obverse boasts a replica of arguably one of the most beautiful and certainly one of the most recognizable images in the history of U.S. coinage – Adolph A. Weinman's "Walking Liberty" design. The motif shows a strikingly dynamic image of Lady Liberty mid-stride as she marches toward a brilliant sunrise. Liberty stretches her right hand out toward the sun's shining rays, which radiate above a majestic mountain range in the distance. Liberty cradles a mix of olive and laurel branches in her left arm. She's shown draped in a billowing American flag and wearing what appears to perhaps be a Phrygian – or "Liberty" – cap atop her pinned back curls. The "Walking Liberty" image was initially struck on the pre-1933 U.S. half-dollar coin from 1916 to 1947.
The new reverse design, set to be released on an additional issue of the Silver American Eagle later in 2021, will feature an eagle descending downward toward a nest below. The mighty bird will carry an oak branch in its talons and will be encircled by the Silver Eagle's standard reverse inscriptions – "UNITED STATES OF AMERICA," the coin's "ONE DOLLAR" face value, its "1OZ." "FINE SILVER" precious metal contents, and the United States motto, "E PLURIBUS UNUM."
The new eagle motif was created by Artistic Infusion Program (AIP) artist Emily Damstra and sculpted by Michael Gaudioso, a Mint medallic artist. In commenting on the symbolism used in her design, artist Damstra noted that the magnificent bald eagle "is truly an American icon" and that she "liked the idea of including an oak branch…since the oak is America's national tree and a symbol of strength."
As in all previous years, the 2021 Silver American Eagle Proof will be guaranteed by the U.S. government to comprise one troy ounce of 99.9% pure silver. It will measure just over one-and-a-half inches in diameter and will have reeded edges. It carries a legal tender, although essentially nominal, face value of $1.
The Silver American Eagle Proof coin has come to represent not only the esteemed legacy and artistic excellence of American coinage and the unwavering spirit of the American people and their steadfast commitment to the ideals of democracy and freedom promised by this great nation. With this first Silver American Eagle Proof issue of 2021, we honor and reflect upon the brilliance of John M. Mercanti's inaugural reverse design while simultaneously celebrating the next great chapter to come in this coin's artistic legacy.