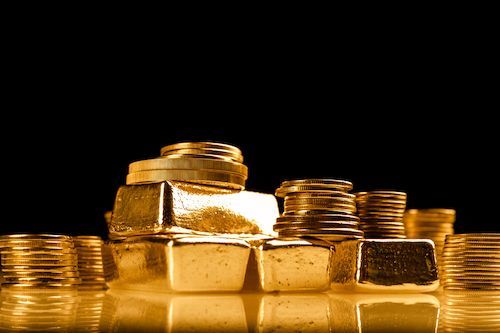 Gold recovered much of its lost ground, while equities and bitcoin started stronger before a significant midweek crash. While both risk-on asset classes showed rather less weakness towards the week's end, neither made anything that resembled a real recovery, which left market fears of an imminent recession wide open. The more industrial-driven precious metals – silver and the pgms – all had a mixed week, but ended up slightly ahead, while gold and silver stocks tended to outperform their respective metals and the general equities markets too.

Equities in North America and Europe opened the current week stronger but we are uncertain that this trend will last, while bitcoin was again showing signs of weakness. There was little comfort for the markets, though, from utterances from the U.S. Fed, with re-confirmed Fed chair Jerome Powell saying that the U.S. central bank would need 'clear and convincing' evidence that price pressures are retreating' before adjusting its tightening policies. So far, with the Russian invasion of Ukraine continuing to exert significant price pressures on the global economy – particularly on the key energy and food sectors – exacerbated by the economic sanctions imposed on Russia, there is no sign of any such reduction. Indeed such pressures may well get worse before they begin to get better which does not bode well for the U.S. or global economies.

So, where do we expect things to go from here? U.S. data releases will be followed closely for apparent trends. Some key GDP, PMI and Jobless claim figures are due this week and none are expected to shine. We suspect that the forthcoming Personal Consumption Expenditure (PCE) figure, on which the U.S. Fed tends to base its interest rate policy decisions and which is due to be announced on Friday this week, will not suggest any respite in Fed policy.

Unemployment figures may well deteriorate – perhaps not significantly, but indicative of a developing trend. The Fed has a mandate of maintaining full employment and controlling inflation. Hence, none of this is likely to cause it to switch course. However, the figures will probably be insufficiently downbeat for it to accelerate tightening measures or its proposed interest rate rises either. They are likely to be worrying enough, though, for markets to see them as yet another indicator of a possible drift into recession ahead and contribute to driving equities down a few notches further.

We would certainly not be too surprised to see the Dow testing the 30,000 level on the downside, the S&P 500 3,750 and the NASDAQ 10,000 within the next few weeks. After Monday's positive start, Asian and European equities looked to be turning down again Tuesday, and we would anticipate American markets to follow suit after the early week burst of euphoria.

For gold, much may depend on dollar strength. If the dollar weakens on the perception that the U.S. is heading for recession, as it is possibly trending towards at the moment, then gold could easily remain above the $1,850 level as it already seems to be doing, albeit tentatively, and perhaps have another tilt at $1,900. Re. dollar strength or weakness, other national economies are weak too so the dollar could consequentially move in the opposite direction which could then be seen as negative for gold. Indeed, the yellow metal has been struggling to retain any advances in North American markets of late and was again finding it tough to maintain the newly regained $1,850 level at the beginning of the current week, although has been showing some signs of additional strength in European markets.

Silver and pgm prices may be a little more dependent on the overall state of the economy. Palladium demand in particular is hugely dependent on the state of the internal combustion engine driven light vehicle market and rising inflation and China's zero Covid policies could see demand in this sector heavily reduced. Platinum and silver demand is also rather more industrially-related these days so could also be adversely affected by overall economic trends.