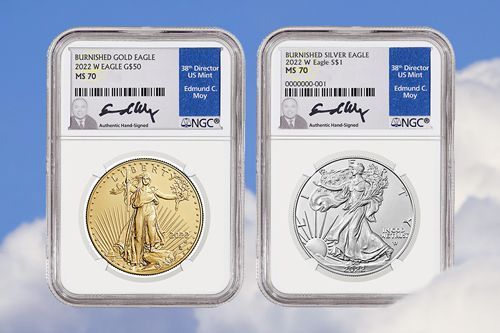 August 4, 2022
495 view(s)
Most people have never heard of the Burnished American Eagle MS70 and don't know how incredibly rare and undervalued they are!
Investors may know them by their other name, "Uncirculated," but there is a lot of confusion about what that means. Many people see the MS70 grade and believe burnished coins are just bullion coins with a mint mark, but this is not correct.
The U.S. Mint makes three versions of the American Eagles. The Mint makes a bullion version, a proof version, and the burnished version. The burnished version is the smallest mintage of the three versions.
The Burnished American Eagles are nearly fifty times rarer than the bullion version and about twice as rare as the famous and investor-friendly proof version.
Compare the Silver American Eagle Mintages of the last couple of years. Indeed, burnished coins are the rarest mintages. Like the Proof coins, only a fraction of the total mintage will become a perfect 70 condition.
| Silver American Eagle | 2020 | 2021 |
| --- | --- | --- |
| Silver Eagle Bullion | 30,089,500** | 28,275,000** |
| Silver Eagle Proof | 381,110* | 327,440/300,000 |
| Silver Eagle Burnished | 154,261* | 175,000 |
**U.S. Mint bullion sales by month
With gold, the burnished numbers are even lower. The following chart shows the total one-ounce Gold American Eagle Bullion coins sold instead of minted. The burnished number represents the total mintage. Looking at the numbers this way is as generous as possible to the bullion mintage and as stringent to the burnished mintage. Despite the two different measures, the difference in population is still vast.
| Gold American Eagle | 2020 | 2021 |
| --- | --- | --- |
| Gold Eagle Bullion | 747,500** | 1,115,500** |
| Gold Eagle Proof | 17,358* | 12,559/15,750 |
| Gold Eagle Burnished | 6,284 | 9,100 |
**U.S. Mint bullion sales by month
The 2022 burnished population will be smaller than 2021.
| Production Year | Gold Eagle Burnished | Silver Eagle Burnished |
| --- | --- | --- |
| 2022 | 9,000 | 160,000 |
| 2021 | 9,100 | 175,000 |
| 2020 | 7,000 | 154,261* |
*U.S. Mint cummulative sales figures
Burnished coins are much rarer in comparison to the bullion version. It is inaccurate to say burnished coins are bullion coins with a mint mark. Instead, burnished coins are an incredible way to diversify precious metal investments.
What Does Burnished Mean?
Burnish is a process of manufacturing. The U.S. Mint rolls silver planchettes (raw silver discs) in a drum filled with millions of tiny balls only 6mm. This process makes the coin smooth and removes imperfections. The coins come out with a stunning, matte-like finish.
How are Burnished Silver and Gold American Eagles Different?
The uncirculated quality coins are distinguished by the presence of a mint mark, indicating their production facility. The mintages are lower because producing a burnished coin is very labor intensive. Also, the burnished coin blanks are hand-fed into specially-adapted coining presses one at a time. Many knowledgeable coin experts believe the burnishing process helps the coins look immaculate for significantly longer than other means of production.
Why Consider Adding Burnished American Eagles to your Portfolio
Rarity drives value, and Burnished American Eagles are the rarest American Eagles. Burnished Silver American Eagles have been made annually since 2006 (except in 2009 and 2010). Despite their history and rarity, the market has just started taking notice in the last few years. As more people look for inflation protection, the demand for tangible assets is growing fast. More people are taking notice of Burnished American Eagles as a diversification strategy and affordable way to own American Eagles.
Why Are the Burnished Eagles An Investment Opportunity?
Wholesale Coins Direct always seeks the best opportunities to protect our clients. We will not recommend products unless we are confident they will perform for our clients. Burnished coins have been minted since 2006. We have been following them very closely. However, the market was not as strong as the proof coins and did not meet our strict standards for a recommendation. It took some time for the market to prove itself. Still, a noteworthy increase in demand and economic factors prove that our clients are well suited to invest in the burnished American Eagles MS70. The Burnished American Eagles now check all the boxes of a solid opportunity we are proud to get behind.
Wholesale Coins Direct is the largest bulk purchaser from the U.S. Mint of proof coins. Our purchasing power and market position is creating a once in a decade opportunity. Our clients are uniquely positioned to take advantage of how large and how quickly this market could potentially grow.
In addition, Ed Moy, the 38th Mint Director, will hand sign every Burnished American Eagle MS70 exclusively for Wholesale Coins Direct.
The Proof coin community has consistently valued the Ed Moy signature series as the industry standard. Now, it is available on Burnished American Eagle MS70 exclusively to Wholesale Coins Direct clients.
We confidently and excitedly recommend Burnished American Eagles MS70s to compliment Proof 70 coins as a solid precious metals investment.
The future is bright and has incredible upside potential.
Invest with confidence. All Burnished Gold and Silver American Eagles qualify for our industry-best guaranteed buyback program!