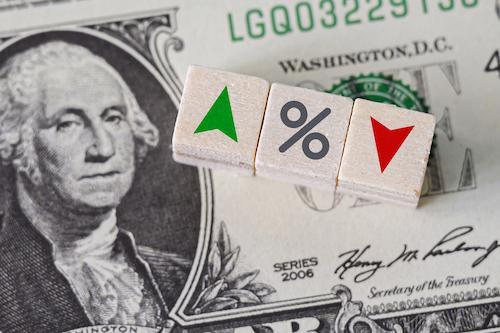 September 1, 2021
61 view(s)
U.S. Federal Reserve Chair Jerome Powell's much anticipated presentation to the virtual Jackson Hole annual symposium was seen as somewhat more cautious than the comments following last month's Federal Open Market Committee (FOMC) meeting. Reading between the lines, as one needs to do with most, if not all, Fed statements, the presentation resulted, at least initially, in a boost to precious metals and equities prices and drove the dollar index down a few points. These two elements are, of course, directly connected.
Powell's announcements did not contradict anything noted in last month's post-FOMC meeting statements. Nevertheless, the tone was perhaps a little more cautious in recognizing that the growth in new COVID-19 infections (resulting from the spread of the Delta variant) could slow down the speed of any economic recovery, despite some encouraging July employment data. On Friday, for example, there were over 190,000 new virus cases and over 1,300 virus related deaths reported across the U.S., according to the Worldometers website.
This figure seems to be growing, with Florida alone now reporting more daily infections than the majority of European hotspots. Nationwide infection rates currently being reported are running at the highest levels since January, when they reached a peak of just over 300,000 daily new cases. The suspicion of this writer is that things will likely get worse before they begin to get better.
The intimation from Powell's presentation thus appeared to be that the start of tapering the Fed's bond purchasing program may yet be delayed beyond current expectations, as may be any raising of the Federal Funds interest rates. We shall have to wait until the FOMC meetings take place in the last few months of the year to get any definitive guidance on timing – if we even get it then!
Meanwhile, the Fed's preferred inflation rate measure, the Personal Consumption Expenditures Price (PCEP) Index, came in at an above anticipated figure of 4.2% in the year to July – the highest rate for 30 years. In July alone, it came in at 0.4% for the month, suggesting an even higher annual rate could lie ahead. Powell still sees the latest inflationary trends as "transitory," but many fear his optimism is misplaced. Other inflation measures suggest the person in the street may be seeing much higher price-rise levels – perhaps as much as 10% or more, if calculated the way government CPI data used to be measured.
As we have previously pointed out on a number of occasions, this means that real interest rates being experienced across the board are distinctly negative – even on the Fed's own preferred conservative statistical data set. Negative real rates are generally considered positive for the gold price.
On the equities front, more and more analysts and commentators are predicting a major market crash as, except in a few cases, earnings and profits do not tally with the high valuations being put on most stocks. And as for Bitcoin, we have gone on record suggesting that much promotion of the cryptocurrency is, at best, fraudulent and that predictions that BTC will rise to $100,000 or higher are perhaps even more dubious, in the writer's opinion, than the $10,000 gold or $100 silver price predictions being bandied about in some commentators' short-term forecasts.
We've certainly been wrong on Bitcoin in the past, however. Greed seems to often outweigh common sense with this investment vehicle, and ever-increasing evidence of financially dubious goings on related to some of the biggest players in the Bitcoin sector continues to be ignored by many investors! Some day, the chickens will come home to roost, and there will be a plethora of unhappy Bitcoin investors when the whole house of cards comes crashing down, as this writer thinks it inevitably will. For the moment, though, Bitcoin has generated a following that may be difficult to counteract.
Silver investors, who had seemed to be on a roll earlier in the year, have seen a decent price pick-up on Friday of last week (August 27, 2021). But, even so, the Gold:Silver Ratio (GSR) continues to languish in the mid 70s, well above the levels achieved only a month or so ago.
As for the Platinum Group Metals, they all also received something of a price boost on Friday. Palladium and rhodium are almost wholly dependent on the light automobile market, as prime catalysts in gasoline exhaust cleaning systems, while platinum is currently the preferred catalytic metal in diesel exhaust cleaning and has growing usage in fuel cell technology. Palladium still has a foothold in the "white gold" market – platinum is also utilized in the jewelry sector - but this use is relatively insignificant compared with the worldwide demand for internal combustion engine exhaust cleaning technology.
Whether Powell's statements will be seen as sufficient to keep precious metals prices rising this week remains to be seen. It is probably worth looking at movement in the dollar index as guidance on this. If the dollar continues its downwards path, the outlook for precious metals may be positive. But if the dollar sees even a small recovery, the precious metals price gains might prove to be illusory, with the yellow metal possibly falling back below $1,800 again.
Meanwhile, the non-farm payroll employment figures for August, due this Friday, September 3, 2021, could be key. The consensus is looking for perhaps a 700,000-job improvement, but any variation, up or down, from this figure, might prove negative or positive, respectively, for gold in particular.
The current economic situation is poised between an overall recovery trend, or a new virus-related slowdown. If the new high infection rates continue or get worse, we see the ensuing uncertainty as being gold price positive, but nothing in the pandemic-related statistics can be assessed with any degree of certainty. The virus effects cannot be considered fully realized yet, and whether any new restrictions will be imposed, or if the virus is allowed to run rampant with little to no government intervention, could be the key to economic growth – or perhaps the trigger for a recession.